SimWorld
SimWorld is a small online game that we're developing as one of our primary projects at The Archive. SimWorld is a first person shooter where players divide into teams, build their own bases, and attack opposing teams. It's currently in development, but still solid and fun to play!
Important SimWorld Links
Screenshot Gallery - View SimWorld screenshots.
Documentation - Learn how to play!
Download SimWorld v5 (BETA)
Download SWv5 for either Windows or Linux by using Archive Games
Download SimWorld v4.0 (STABLE)
SimWorld v4.0 is our current stable version of SimWorld -- download it now for your platform!
Thanks again to our donators for supporting development costs!
SimWorld v4.0 Summary of Changes (since v3.1)
Development Links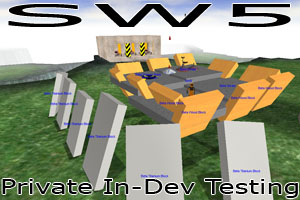 SimWorld V5 Forum Thread - Our next release, V5, is currently in-development. As it's not ready for everyone to play it yet, it's only available to our donators and active community members. We will send out a newsletter (below) when it's ready for everyone to play!
Custom Content Thread - Want to help with SimWorld? Here's some basic information about making custom content! All help is appreciated :)
Subscribe to the Archive Entertainment newsletter to be informed of SimWorld updates as they're released!
Community Links
Archive Forums - Best place to discuss SimWorld
IRC Chat - Best place to find people to play SimWorld